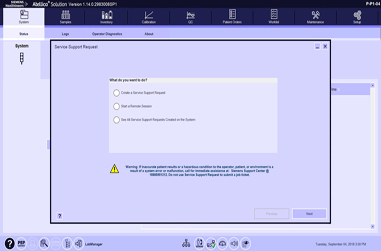 Atellica® Solution Viewing Service Support Requests Video Version 1.25 and Below
The purpose of this video is to address common questions customers may have regarding system calibration. This is provided as a supplement to the Atellica® Solution Operator's Guide, Quick Guide, and online help.
The remote assistance feature can be used to search through existing tickets to view the status on reported issues. Only tickets the operator opens using the on system Service support Request feature will display the support tickets. The local Technical Support provider opens or the customer adds through a call to their local Technical Support provider phone do not display. To view surface support tickets, first select the remote assistance icon in the status bar at the bottom of the screen. On the service Support Request Screen, select see all service support requests created on the system and then next. Select the appropriate module or system and then next only one module or system can be selected with each request. A list of tickets that had previously been created on the Atellica solution will display a message displays if no open service support tickets exist. To filter the list, select filter. The list can be filtered by status reported by service type, module and date range. To refresh the list to show any new tickets, select refresh. To close the window, select the X in the upper right corner. This completes our overview of using the remote assistance feature to view service support tickets.
support tickets,status,reported,filter,refresh,tickets,select,view,display,screen,list,created,submitted ticket,ate ticket,duphate ticket,ticket read,service suppo,ticket,service,solution,request,operator,call,system,module,siemens,version 1,heoltnineers,work,operable
SIEMENS . Atellica Solution Solution Version 1.14.o.2983008SP1 Version 1. 14.0.2983008SP1 Heottnineers HeoLtnineers SIEMENS ... SIEMENS . HeoLtnineers In I n Work I ist Work I i st Operator operable System VMM SH7530gA CH75309A SH75309A CH75309A Service Support Request To or modify a submitted ticket, contact the local technical provder Siemens Support Center @ Igggss51212 Do not a dupzate ticket To or modify a submitted ticket, contact the local technical provder Siemens Support Center @ Igggss51212 Do not a dup':ate ticket To or modify a submitted ticket, contact the local technical provder Siemens Support Center @ Igggss512t2 Do not a duphate ticket To or modify a submitted ticket, contact the local technical provder Siemens Support Center @ Igagss512t2 Do not a duphate ticket To or modify a ;utmitted ticket, contact the local technical provder Siemens Support Center @ Igggss512t2 Do not a duphate ticket Module Mcdule V Stmdby Staid by What do you want to do? 11 Reported by Module Mcdule V Create a Service Support Reqæst pmern Service Re-west - Service Reqwest - Rewted by Ticket Ticket ID Mcdule V Module Shal Shod CM00122 Seonce Request- Stan a Remote Session (spool 16) spooli16 (C M00122) 4:02 0219/2018204 029/2018204 spool 16 only System is partially Open 40010894016418 40010894012118 40010894012117 only operable Operator See A" Service Suppo«t Requests Creded on the System An Service Support Requests on the System 029/2018204 1:58 spool 16 System IS System Karlos Crayton 4001CM12117 4001CM012117 863 8653 1:58 8:53 Dem O April G April 72 - System is System System IS Call call not to proæSS System is System Service 2:04 4:02 (spool 16) spool' 6 spool 16 Request - System Request - System is hhh 40010894012118 400108940164 400108940172118 not able to process this for this S this 9:30 his is a demo please hforrnabon Request nadrne azizi System System IS this is a demo ticket after this S 6122.12018 10.47 10:47 this this S spoone ticket read ticket after ticket read. Please call to LabManager Tuesday, 204, Tuesday, Tuesday, 2018