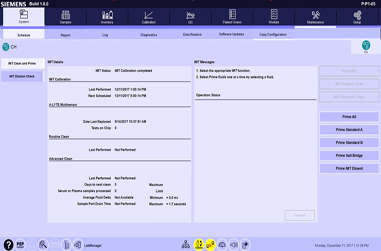 Priming the IMT Fluids on the Atellica® CH Analyzer Video Version 1.25 and Below
This video provides instructions on how to perform the as needed maintenance task of priming the IMT fluids on the Atellica® CH Analyzer.
The Atellica Ch analyzer may need the operator to prime the IMT fluids manually on an as needed basis. To manually prime the empty fluids, start by selecting maintenance on the command bar. Next select IMT. Select IMT clean and prime. Select prime IMT. Select prime all or the individual. I empty fluid, wait for prime to complete. To resume processing on the Ch analyzer on the Command Bar, Select system. Select status finally select the resume button on the Ch Analyzer status screen. This completes the overview of priming IMT fluids.
AtelLicae Solution Atellicae Solution SIEMENS . SIEMENS Solution Version 1. sp00107 Version 1. 14.0.2983003 Atellicae Atellico Solution spool 07 HeoLtnineers SIEMENS HeoLtnineers I ry I MT status Operator Diagnostics Copy C Data Restore Software updates Please note that the learning material is for training purposes only! SH CH AM 1M System For the proper use of the software or hardware, please always use the Operator Manual or Instructions for Use (hereinafter collectively "Operator Manual") issued by Siemens status Scheduled Healthineers. This material is to be used as training material only and shall by no means substitute the Operator Manual. Any material used in this training will not be updated on a regular I ry I MT Prime basis and does not necessarily reflect the latest version of the software and hardware available at the time of the training. MT Calibration completed IMT Calibration completed I. appropriate •MT function. l. appropriate Prime 'MT 'M T status 'MT status status I MT Calibration completed Calibration thlect appropriate 'MT the appropriate 'MT Standby Standby 'MT Check 2. Select Prime fluids one at a time by selecting a fluid. fluids at a time by a calibration 1M T Calibration The Operator's Manual shall be used as your main reference, in particular for relevant safety information like warnings and cautions. IMT Routine clean Routine Clean 'MT Routine Clean Last 12/11/2017 PM 12/11/2017 12111/2017 PM Capabilities Note: Some functions shown in this material are optional and might not be part of your system. Operation Status Next S status Status Next led Next 1M T Advanced Clean Advanced Clean A-LYTE Certain products, product related claims or functionalities (hereinafter collectively "Functionality") may not (yet) be commercially available in your country. Due to regulatory requirements, the future availabilityof said Functionalities in any specific country is not guaranteed Please contactyour local Siemens Healthineers sales representative for the most Prime 'MT Last Replaced AM current information. on Chip Prime Standard A The reproduction, transmission or distriEution of this training or its contents is not permitted without express written authority. Offenders will be liable for damages. Clean Connected to FCC All names and data cf patients, parameters and configuration dependent designations are fictional and examples only. Last performed Noxt Prime Salt Bridge Advanced Clean 1M T Advanced Clean All rights, including rights created by patent grant or registration of a utility model or design, are reserved. Sample Prime 'MT Prime Atellica, and all associated marks are trademarks of Siemens Healthcare Diagnostics Inc. or its affiliates. All other trademarks and brands are the property of their respective owners. LasSt Performed Not Performed Nost Performed Last Performed Front Cover Product availability varies by country and is subject to varying regulatory requirements. Please contact your local representative for availability. Days to Days to next Days to next clean um Not Serum or Plasma samples processed Serum Plasma samples processed Limit Back Cover Copyright C Siemens Healthcare GmbH 2018 Average Fluid Fluid Fluid Delta Not Available Maximum Noxt Sample Next seconds Maximum Minimum 1.7 seconds um As Needed Global Siemens Healthineers Headquarters . As Needed Henkestr. 127 91052 Erlangen, Germany +49 9131 84 0 siemens.com/healthineer> PEP Monday, 2017 PM Tuesday, July 10.2018 11, 2017 PM LabManager Monday, PM